Here to help!
Our poa! support teams are here to help you if you have any issues with your poa! service or you are looking for more detailed information about us.
Please fill in the support form below or contact us on our WhatsApp support number:
0730 762762
Broadband FAQ's
How do I access my account?
1. Type https://poa.im into your web browser (note Opera mini does not work as it is not a full web browser so if your main browser is Opera mini please select another one such as Google Chrome).
2. Log in with your username and the PIN you created when you first joined poa! Example Username: olivia.rhumba and PIN: 1234 and Click enter.
I have forgotten my PIN, how do I reset it?
1. Type https://poa.im into your web browser.
2. Click on "Forgot PIN".
3. Enter your registered phone number in the space provided.
4. You will get an SMS from poa! with a link message.
5. Click on the link and create your new pin.
I have forgotten my Username, how do I find it?
1. Type https://poa.im into your web browser.
2. Click on 'Forgot Username' for a reminder.
3. You will be asked to enter your mobile number.
4. Put in the number you signed up with and click "Request PIN rest".
5. You will receive free SMS with your new PIN.
How do I change my Password?
1. Type https://poa.im into your web browser
2. Log in with your Username and PIN.
3. Click on "Help & Support" and follow the option to change your password.
My phone number has changed, how do I change it in my poa! account?
1. Log in to your account (https://poa.im ) with your Username and PIN.
2. Click on My settings
3. Change the phone number listed as your primary number
4. Alternatively, you can leave the primary number unchanged and add a secondary number.
How do I pay for my poa! services?
We make payment as simple as possible, use the regular Mpesa number that you have registered with poa!
1. Go to your MPesa menu
2. Click Lipa Na MPesa
3. Click Buy Goods and Services,
4. Enter Till no. 311554,
5. Key in the amount,
6. Enter your PIN and send the payment
Your service will be automatically switched on and you will continue to enjoy poa!
# WE ONLY ACCEPT PAYMENTS VIA OUR Mpesa TILL
# ANY PAYMENTS TAKEN DIRECTLY VIA SENDMONEY ARE A SCAM!
# 3RD PARTY BANKING APPS WILL ALSO SEND THE MONEY TO YOUR ACCOUNT
# FAILURE TO FOLLOW THESE INSTRUCTIONS MAY CAUSE YOUR ACCOUNT TO BE DISCONNECTED AND/OR A DISRUPTION TO YOUR SERVICE
What happens if I pay for my subscription using a different number?
If you pay from Mpesa that is not registered with your account the credit won't reflect on your account until you add that new number (either as primary or as a secondary number). But if you have already made the payment using a different number, you can still add it as a secondary number, as explained in question 5 above, and the credit will reflect on your account within three hours.
How can I find out my payment due date?
Log in to https://poa.im on your browser with your username and pin. Click on My account and the system will show you the number of days left until your next payment is due and how much credit you have in your Poa! account.
Can I pay my subscription in instalments?
Yes! Any amount of money you pay goes to your poa! account. Anytime you make a payment we also send you a text message advising you on the current account balance.
I am moving from one area to another, how do I take my internet connection with me?
Contact customer service 7 days before you move to check if your new location is within the poa network. If it is, you pay 3000 shillings for the engineers to make your move. Make sure you take the router with you and, if possible, take the Outdoor Unit (ODU) as well. If you can't, our engineers will collect it on the re-installation day. You cannot move and install your equipment yourself as you cannot tell where our masts are and what's the best angle for your outdoor unit. If your new home is not within the poa network, we will decommission your connection at no charge to you.
Connection FAQs
How do I connect my poa! Internet router to access the internet.
poa! technical team installs and sets up a router for you when you subscribe to use poa! internet. Always check to confirm that there is power, and the router is plugged in and switched on (has a steady power light) and port 1 is blinking. If you cannot connect to the internet please contact customer care for technical support using the numbers on your router.
How do I register a new device on my home Wi-Fi?
Go to settings on your device. Click on Wi-Fi. Select your network (your WIFI's username as labelled on your box or at the bottom of your router). Enter your password (labelled on your box or at the bottom of your router) then connect.
How many devices can I connect on my Wi-Fi?
A home user can connect up to five devices at once. If you connect the sixth device – one of the other five will be disconnected.
Why does my internet speed vary?
Every poa! home subscriber gets a minimum dedicated speed of up to 4 Mbps. If one device is connected, it will receive up to 4 Mbps, but this will decline as the number of devices increases since the bandwidth will be shared by more devices.
Does it make any difference to my speeds if I connect more devices?
Yes. Each device is likely to be using background data. Sharing your bandwidth over more devices will usually lead to slower speeds on each individual device. But adding more devices will not change your total speed, which remains at up to 4 Mbps.
My internet is very slow, how can I get it to be faster?
You can reduce the number of devices on your connection and ensure there are no apps or torrents running in the background that are consuming your speeds. If this doesn't improve things, call customer care and we will run a speed test to see if there is a technical problem. If there are several heavy data users in your premises, you can also upgrade to a business connection, which means you can choose what speed you pay for and opt for far higher speeds.
Are there tips for how I can improve my Wi-Fi signal?
Make sure your router is an open place and not boxed in by another household equipment. You can also mount it in a central place to increase coverage across the house.
Where's the best location for my Internet equipment?
Your router should be raised to improve the signal and with nothing boxing it in and blocking the signal. For example, it should not be behind your TV.
What is my current internet speed, how do I find out?
We are currently offering up to 4 Mbps. To check this, connect one device to the internet, type speed test into your browser then run the tests. Both upload and download speeds should be running at up to 4 Mbps.
My internet keeps buffering, what do I do to get it working smoothly again?
By managing the number of connected devices and what each device is accessing, you will improve your streaming experience. You can also set your videos to auto for the internet to assign resolution depending on what it can stream at the time.
What are the reasons for rebooting my device?
Routers are essentially tiny computers with limited processing power and memory. One of its most important jobs is handing out unique IP addresses for each device that connects to it. If you have a lot of devices requesting addresses or devices frequently jumping on and off the network, the router sometimes can't keep up. Therefore, you need to restart your rooter occasionally to refresh it in order to make it function smoothly.
How do I reboot my device?
By switching it off, waiting for 10 seconds, and then switching it back on again.
How can I troubleshoot my internet connection?
Check the router is properly connected, as explained in question 1. Try rebooting. Check your speeds with a speed test. If the problem persists, contact customer care to get the issue addressed.
Customer Care FAQs
How do I contact customer care?
You can contact us:
By raising a ticket through the https://poa.im Help and support button
Email support@poainternet.net
When is the customer care desk open?
6 am to midnight every day.
How quickly will customer care sort my problem?
Customer Care agent will get all the details on your problem, then raise a ticket for resolution and advise on the time needed to sort the problem. The time span solely depends on the nature of the problem faced. However, it can be just a few minutes for a simple account enquiry to 24 hours for the technical team to initiate and solve a technical problem with your router.
Get Support
If you are experiencing problems with your internet connection then please get in touch by filling in the form below. Our dedicated support team will contact you straight back.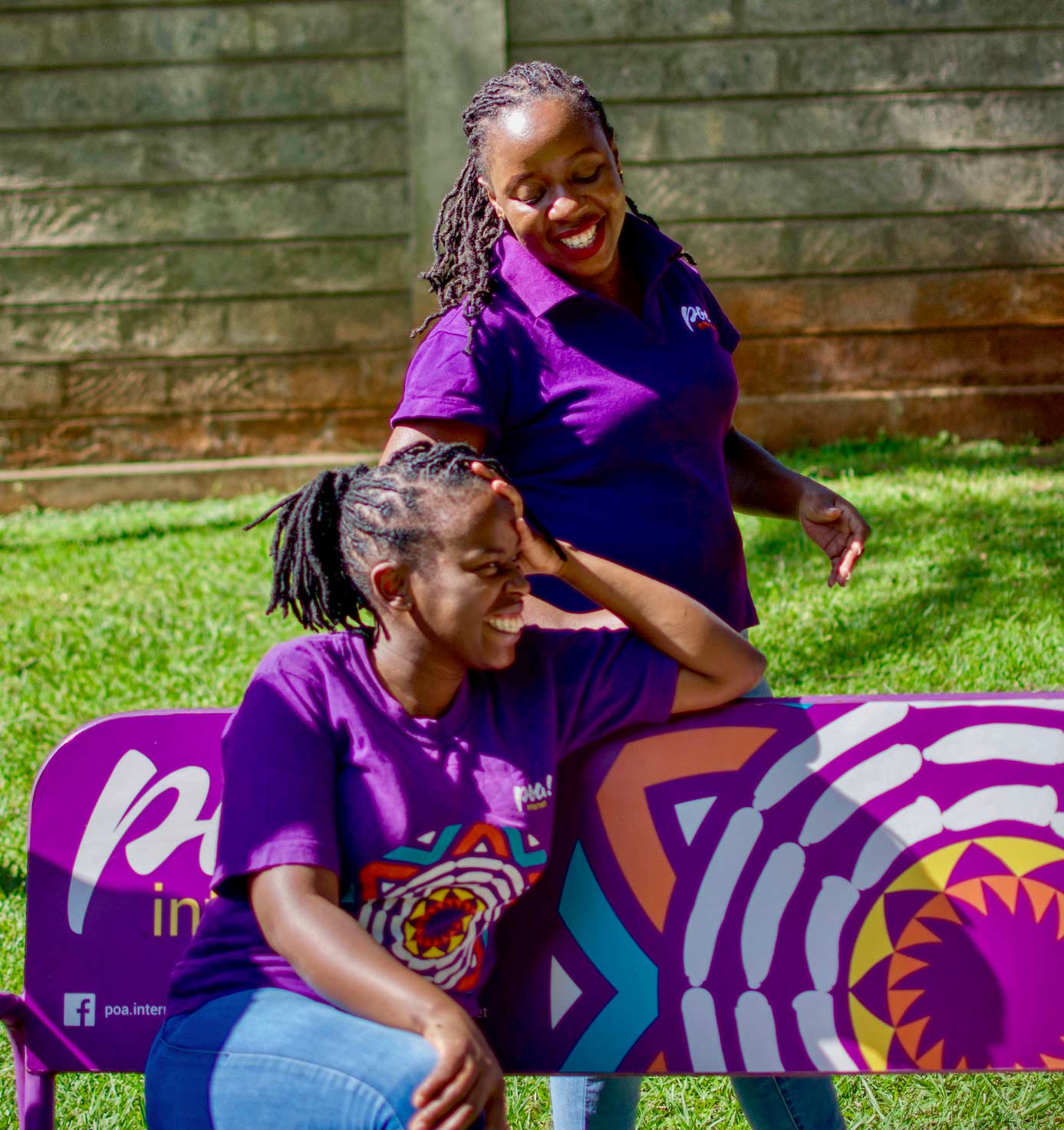 Unrivalled customer service
We are committed to the value we deliver to our customers, Our customer service is there to help you 365 days a year. If you have any questions or concerns about our services, we're here for you!